Relax with Great Savings on 5 Memory Foam Pillows
Among countless types of sleeping pillows, memory foam pillows are becoming more popular in reducing pain and promoting sleep comfort. This post tells you the top 5 memory foam pillows that are on sale to get both sleep quality and great savings. 
What do you know about Memory Foam?
Memory Foam is a type of active flexible foam that can slow down elasticity. As far as I know, it is also used as a protective gear for astronauts when flying into space and reduces vibrations for spacecraft during landing and take-off.
Currently, this material has become popular in daily life, widely applied in the bedding-pillow-mattress industry.
We can name many health benefits of memory foam such as:
Support to relax your muscles and joints and feel comfort
Slow down the elasticity and support your movement when sleeping.
Reduce bone and joint pain caused by wrong sleeping gestures
The air bubble structure helps the surface to be airy, limiting the feeling of suffocation.
With these great health benefits, sleeplessness is no longer a nightmare when you own a memory foam pillow.
Top 5 on-sale memory foam pillows for great savings
Below, we will suggest to you the top 5 best-selling memory foam pillows. We want you to easily choose the best product while saving your money to the maximum.
Milemont Memory Foam Pillow
15% off- from $23.88 
Milemont Memory Foam Pillow includes 100% memory foam material and a high-quality pillowcase. The pillow brings many health benefits and is suitable for all users. Besides creating good sleep, it also supports the treatment of joint diseases.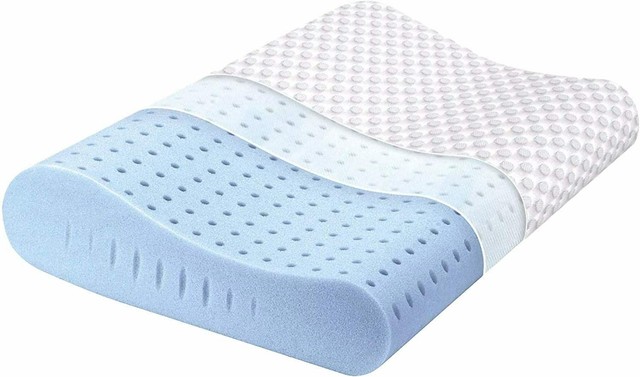 Thanks to its wavy design, the pillow keeps the head, neck, and shoulders stable during sleep. In addition, it creates favorable conditions for breathing, preventing snoring.
Snuggle-Pedic memory foam pillow
30% off – from $35
The pillow is a combination of memory foam and microfiber materials. These are all soothing and soft materials that help bring a good night's sleep. The pillow helps to fully support the head, neck, shoulders, and relieve the pain quickly.
I see a snuggle-pedic memory foam pillow is perfect in any position. In addition, the pillowcase has an extremely modern design. Therefore, it is suitable for any bedroom.
WonderSleep Adjustable Shredded Pillows
30% off – from $42 
The pillow is made from a super high-quality memory foam material. It is soft enough to help you lay down comfortably in any position. The flexible design keeps the head and shoulders balanced. As a result, the cervical vertebrae are always comfortable and feel relaxing.
Moreover, two layers of 2D and 3D breathable fabric keep the surface breathable. This structure effectively prevents the invasion of bacteria and fungi from the outside.
Bamboo Shredded Memory Foam Pillow
6% off- from $22.55 
The pillow is made of 100% super soft memory foam material. The outstanding elasticity of the pillow helps to support the cervical vertebrae optimally. Your sleep gesture is always aligned in the right direction. Thanks to that, the pain during the day will disappear quickly. It gives you a good and comfortable sleep.
The pillowcase helps absorb sweat quickly, keeping the neck and shoulder area dry. Using a Bamboo Shredded pillow is a perfect choice for those who sweat a lot during sleep.
Memory Foam Wedge Pillow
15% off – from $29.74
Thanks to high-quality memory foam material, the product provides perfect support for the head, neck, shoulders, and helps you get a deep sleep all night long.
In particular, thanks to the monolithic design, the surface is completely non-flattening and protects the spine as naturally as possible. In addition, with its effective heat dissipation, the pillow keeps you cool and comfortable during the night.
To buy those pillows, you can go to big E-commerce platforms like Amazon, eBay, Walmart. Hope the post gives you helpful details about on sale memory foam pillows to have a good night's sleep.